Outdoor Pandit, the blog
Greetings, and welcome to Outdoor Pandit (OutdoorPandit.com) – a blog for hiking enthusiasts which is receiving good reviews from both beginners and veterans for clarity of concepts, personal examples and illustrations in the form of photographs and sketches.
I am Shantanu Pandit, an outdoor educator and outdoorsman based out of Mumbai, India. I have bird-watched, hiked, rock-climbed and peak-climbed in the Himalaya. Early on I experienced the delight in sharing the joys of outdoors and this led me eventually to become an instructor at the National Outdoor Leadership School (NOLS), U.S.A. in 2000, and a wilderness first aid instructor with Aerie Backcountry Medicine, U.S.A. in 2015.
My training and work as an outdoor leader and outdoor educator has enabled me to gain insights into what helps us stay safe and comfortable in the outdoors while interacting with our environment with care and concern. This blog is but an extension of those experiences and desire to see outdoorpersons responsibly enjoying an environment that gives us so much fulfillment. And it continues to serve me as an opportunity to keep learning as I do research to check on content that I share through my posts. An interesting viewpoint to my motivation for writing this blog is my email quoted by the executive director of NOLS and which you can see here.
Conception of this blog
I have always been taught and mentored to grasp the basics behind what I was doing, giving me delightful clarity about our own functioning and about the outdoors world we so much love. This meant understanding about safe and effective practices, understanding about groups and teams and leadership, and, ultimately, understanding about myself.
This blog will help you gain conceptual clarity about a lot of factors that influence our decisions as we prepare for and function in the outdoors. I have used a variety of formats to pen my thoughts and recommendations ranging from simple information-only, to anecdotal narrations that illustrate points of significance, to references to books that have influenced me and my reflection on my experiences that have helped me understand dynamics of outdoorpersons-in-outdoors.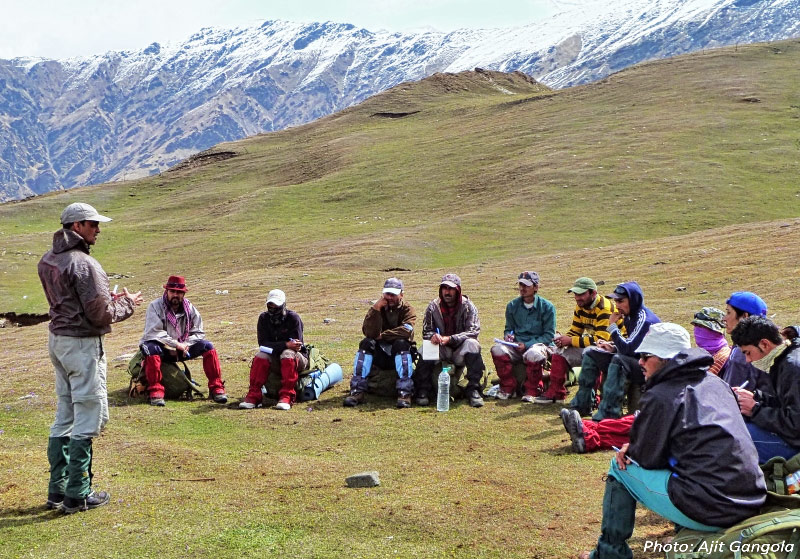 Some key areas that you will see covered in my blog are:
Understanding factors that influence choice and use of gear

How to be comfortable in the dynamic and ever-changing world of outdoors

Aspects of outdoor leadership with references to actual practices

Aspects of risk management

Wilderness first aid
Experiences primarily from two mountain ranges, viz., Himalayas and Western Ghats in India, and a few from mountainous country in the U.S.A. and couple of other areas in the world
Natural history & aspects of

environmental stewardship for helping us engage with our environment with a sense of utmost responsibility, caring and concern

Fun, just fun!
About me
I grew up hiking in the ancient mountain range, Western Ghats, close to my home. Its distinctive geological features, fascinating natural history, and presence of relics of centuries old monuments were more than enough to captivate a young mind! With loads of opportunities to explore ideas and concepts in the outdoors, I was hooked for life.
Natural history outings and hiking soon led me to the vertical world of rock climbing in the Western Ghats and then peak climbing in the Himalaya. Those were heady experiences to say the least, and they made it easy for me to move away from a post-MBA career and strike out on my own in the great outdoors.
Very early on it struck me that I was just completely comfortable in the outdoors. Come rain come shine, there were things that enabled me to persevere, learn, make progress and thoroughly enjoy myself in the process. And that made it easy to take up challenges. 
Outdoor education
My professional work in the world of outdoors began with
An outdoor education programme for children conducted through a trust that I co-founded
An adventure travel company which I co-founded
Adventure-based projects for TV channels and feature films
I 'found my groove' when I got introduced to the field of outdoor education in the late 1980s. My exploration then included working with corporates and consultants to develop designs for outdoor management development programmes and create experiences for various age groups for achieving diverse objectives. It was in 2000 that I did the instructor course of National Outdoor Leadership School, U.S.A. (NOLS), a 55 year-old non-profit global wilderness school. I have worked more than twenty NOLS courses of various kinds in India and the U.S.A.
Today, I divide my time between
Consulting outdoor persons on safe practices and exploring work areas
Consulting outdoors based organisations for accreditation-certification
Facilitating outdoor management development programmes for corporates in India via my consultancy, EKO 
Teaching wilderness first aid (Aerie Backcountry Medicine, U.S.A.)
Coaching using Single Session Therapy approach
A non-profit which I have co-founded for spreading awareness about safe outdoor practices and that undertakes advocacy work (Maha Adventure Council)
Some assignments that I have enjoyed in the recent past are:
Primary contributor to documentation for Hanifl Centre for Outdoor Education, Woodstock School, India which led to the Centre getting accredited with the Association of Experiential Education, U.S.A. in 2020
Instructing wilderness first aid courses conducted for various types of organisations across India
Risk assessment and other documentation for slope stabilisation work that was needed by a private construction firm to get approval from a state government (February 2021)
Conducting a series of sessions on safe practices in outdoors for a) a person who had planned to climb Mt. Kilimanjaro (which she did successfully in 2018) and b) a friend who is walking the Appalachian Trail, U.S.A. (Starting April 2021 and targeting to finish it in two years)
Leading the team that developed safety guidelines for adventure operations and that were used as reference by the government of my home state for formulating its own set of documents (2018 onwards)